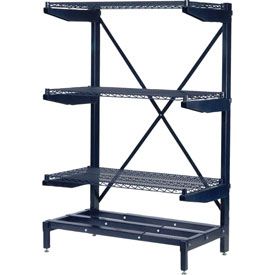 Corrosion Resistant Cantilever Rack- Adjustable

CORROSION RESISTANT CANTILEVER RACK UPRIGHTS & FRAME
Versatile cantilever rack offers 600 lb. capacity per pair of arms. Frame can be adjusted to 36", 48", 60" or 72" widths. 72" tall with 27"D x 8 1/2"H base.

Order 1 frame and quantity of straight or inclined arms (20 degrees) as needed.
Straight arms are for square or flat items, inclined arms are suitable for round stock or pipes. Rugged 12 gauge steel construction finished with a Blue Epoxy powder coat to resist corrosion. Suitable for use in coolers, freezers and dry storage areas. CA$ 

66.29
Cantilever Accessories

Cantilever Shelf
Wall Mount Kit separately to securely mount shelves to wall surfaces. Kit includes 2 posts (numbered to make shelf leveling easy) and 4 wall mount brackets. Mounting screws not included. Cantilever Shelf for Workbench
CA$ 

148.68
Cantilever Accessories

Cantilever Shelf for Workbench Add overhead storage space to your bench with this convenient steel shelf that rests on cantilever brackets and adjusts on 2" increments. Upright Kit is required to suspend this shelf CA$ 

47.03
Cantilever Accessories

Versatile cantilever rack offers 800 lb. capacity per pair of arms. Frame can be adjusted to 36", 48", 60" or 72" widths. 72" tall with 27"D x 8 1/2"H base. Order 1 frame and quantity of straight or inclined arms (20 degrees) as needed. Straight arms are for square or flat items, inclined arms are suitable for round stock or pipes. Rugged 12 gauge steel construction finished with a Blue Epoxy powder coat to resist corrosion. Suitable for use in coolers, freezers and dry storage areas